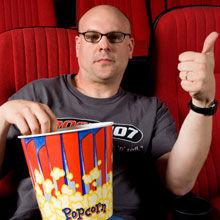 Mike Evans' Story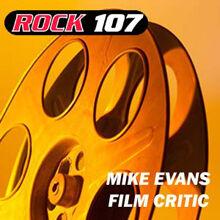 Click Here for the Latest Film Critic!
What was your first job? MOWING LAWNS. But as far as a "real" paycheck goes (with taxes
and such), WSGD-FM 94.3, when it was Oldies. But that was a long time ago. I was hired right after Thanksgiving in 1988 at the age of 17. Now the station is the Talker.
What was your worst job? As strange as it may seem, I've only received actual paychecks from radio stations. Honest. So worst job? They've all had their good points and bad points. I'd have to say the least ENJOYABLE was WARM — The Mighty 590! I worked there very briefly during the summer of 1991, right before getting hired at the Rock. I just hated it because I wasn't actually "on-air." I used to run Phillies Games, and the Sunday Morning "God Squad" marathon of religious programs. I think I did a handful of fill-in's too at Magic 93. That really sucked because I had to sit through Michael Bolton records.
How did you get started in radio? I won a radio contest at Solid Gold 94. When I went to pick up the prize, I demanded to see the program director (who was on the air at the time).
Then I basically begged for a job. I was senior in high school. All my friends were working at Burger King and such. I had NOTHING to lose. He laughed at me, and told me half jokingly to make an audition tape. I did. I was hired two weeks later.
What do people tell you or ask you the most? "Dude, can you play some Ozzy?"
What do like to do when you're on free time? Music and film — that's it! I spend my weekends at Cinemark (hey — Mike Evans Film Critic has to get out of the house sometime). My weekday afternoons are filled with DVD's, new CD's (for my ELECTRIC CITY reviews), and tons of vinyl!!! By the way, if anyone out there has any old records, I'll gladly take them off your hands. Shoot me an e-mail and let me know what you have!
Musically, who are your favorite artists? Favorite artist of all time? THE BEATLES. Other favorites include THE CLASH, KRAFTWERK, ABBA, THE RAMONES and solo MCCARTNEY. And then there are more modern favorites like BELLE AND SEBASTIAN, FLAMING LIPS, LADYTRON, WEEZER, WHITE STRIPES, and DECEMBERISTS (actually — there are far too many to mention).
What is the craziest thing you've ever done? I'm not saying…and I won't tell where the bodies are buried either.
If you could invite anyone to dinner (dead or alive) who would it be? Anyone rich and famous (or just rich) because I'm sure they'd pick up the check. Actually, there are probably a bunch of movie directors I wouldn't mind having some in-depth chats with — QUENTIN TARANTINO, WOODY ALLEN, STANLEY KUBRICK, STEVEN SPEILBERG, ALFRED HITCHCOCK, JOHN WATERS, THE COEN BROTHERS, etc.
Do you have any pets? Personally? No, but the family has 3 cats.
What is your most annoying habit?
Jumping to conclusions (sometimes — not a lot).
Do you surf the web? What are your favorite sites?
Of course. Favorite site — The International Movie Database — IMDB.
I've spent many hours there arguing with film geeks from around the world!
By the way, I'm "mevans19."
DVD PLANET — Have to get my shopping done.
YOU TUBE — One day I discovered that every episode of Mystery Science
Theater 3000 is there!
If you had a theme song what would it be? I'm still sticking with RADIO RADIO by Elvis Costello & The Attractions. Listen to the lyrics.
Did you ever have a brush with fame? No, but several "mini brushes." I waited four hours in line to meet George Romero at a horror convention. Of course I've met all kinds of people at those. Oh, and then there was that time at Lollapalooza '92 — I was trying to get to the girls from LUSH and practically knocked over Eddie Vedder.
Three things you can't live without? Food, clothing and shelter — DUH!
What is your favorite junk food? Pizza (is that really junk food though?). My favorite candy bar is MILKY WAY.
Who are your personal heroes? My wife Kathleen. She actually has drive and determination. I'm just the slacker bum on the radio. Besides she puts up with all my crap.
Where are your favorite hangouts? My home theater. Cinemark. Any record store with stacks and racks of vinyl.
Tell us your dirty little secret. Absolutely not!! Because then it's a secret no more!