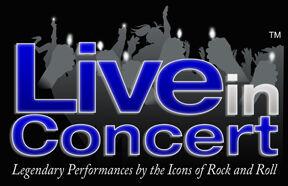 Four Stages. Four Cities. Four Bands.
One Incredible Show Every Week!
Imagine for a moment…The concert of a lifetime is coming to your radio. Fleetwood Mac,
Elton John, and Bruce Springsteen are opening for Eric Clapton. Or, Queen, Genesis, and U2 are opening for The Who. Each week, we'll re-live the most memorable performances in the history of rock and roll. You'll hear your favorite bands like never before.
Live in Concert. Legendary performances by the Icons of Rock and Roll.
Sunday Nights 10-Midnight
About Us
Lisa Berigan | Host
Lisa is a 20+ year veteran of radio. She has been heard around the country and currently you can listen to her weekdays on Washington D.C.'s BIG 100.3fm. Lisa has also hosted shows in Chicago, Philadelphia, Seattle, Albany, NY and Burlington, VT.
Lisa is very excited to help bring Live in Concert to the airwaves. Her extensive knowledge of music and familiarity with the artists allows Lisa to share her personal insight into the significance and importance of the concerts we feature.
Dave Robbins | Exceutive Producer
Dave has been a radio programmer and on-air host all over the country. He's worked at stations in Chicago, Washington D.C., Milwaukee, Memphis, Tulsa, and other cities. His passion for live music comes through in each program he produces.