Breaking Benjamin
Special guests: BUSH
Support: Another Day Dawns
May 18 @ Mohegan Sun Arena (Wilkes-Barre, PA)
Radio Presale: Thu, Feb 16 10a-10p (PW: Radio)
Public OS: Fri, Feb 17 at 10am
TICKET LINK: https://www.ticketmaster.com/event/02005E4A9BFD3EEB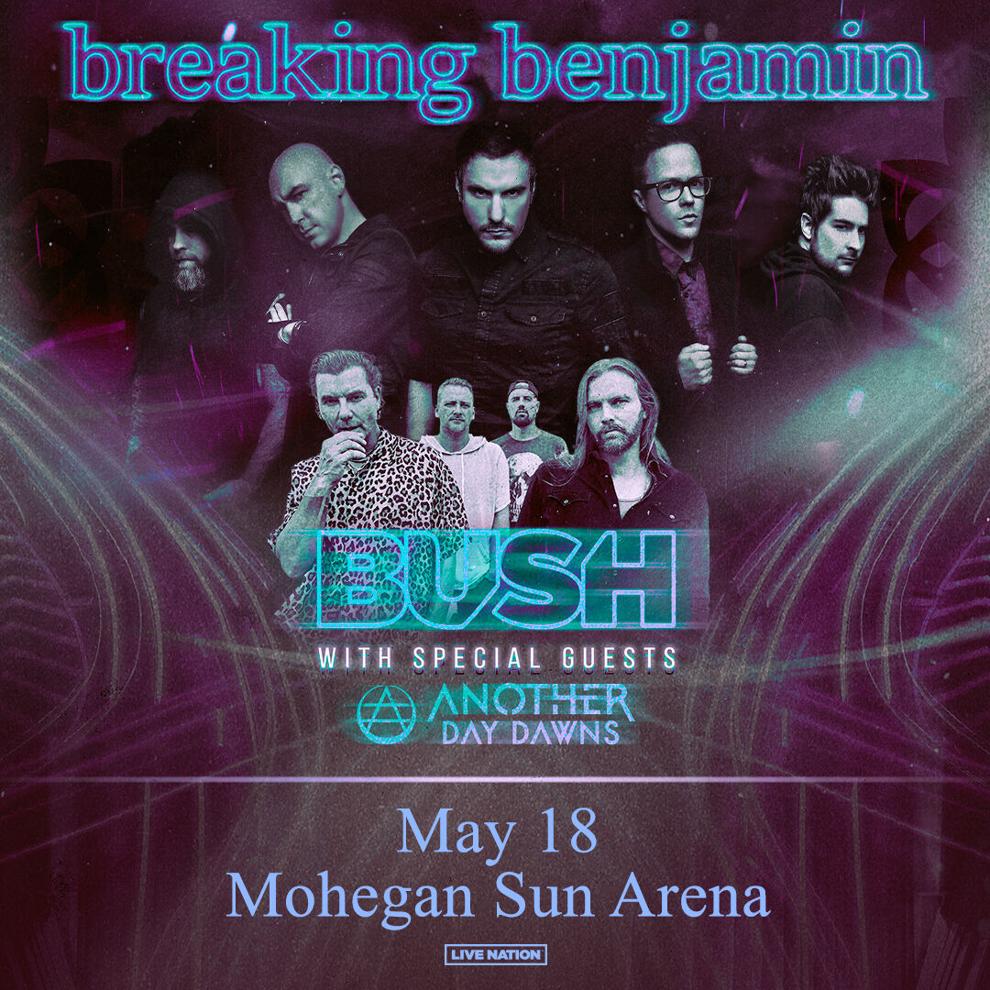 Breaking Benjamin
with special guests Bush and Another Day Dawns
Thursday, May 18th at Mohegan Sun Arena at Casey Plaza
Tickets On Sale This Friday, February 17th at 10am at LiveNation.com, Ticketmaster.com and in person at the NBT Bank Box Office
Wilkes-Barre, PA – Breaking Benjamin is coming back home to Wilkes-Barre, PA on Thursday, May 18th at 7pm for a performance at the ASM Global Managed Mohegan Sun Arena at Casey Plaza. Joining Breaking Benjamin will be Bush and Another Day Dawns.
Tickets, starting at $39.95, go on sale this Friday, February 17th at 10am online at LiveNation.com, Ticketmaster.com and in person at the NBT Bank Box Office at Mohegan Sun Arena.
For more information, please visit www.BreakingBenjamin.com.
ABOUT BREAKING BENJAMIN
Breaking Benjamin are no strangers to the upper echelons of the rock charts. Since bursting onto the scene with 2002's Saturate, the band has amassed an impressive string of mainstream rock radio hits, with ten songs hitting #1, numerous platinum and multi-platinum songs and albums, 8.5 billion combined streams worldwide and a social imprint of over 6.5 million -- a testament to the band's global influence and loyal fan base. Their most recent release, AURORA, gave Breaking Benjamin their 10th #1 song at rock radio with "Far Away ft. Scooter Ward."
Breaking Benjamin's last studio album, EMBER debuted at #3 on the Billboard Top 200 and marked the multiplatinum band's fourth Top 5 debut on the Billboard Top 200, following 2015's #1 debut for DARK BEFORE DAWN (Gold), 2009's DEAR AGONY (Platinum) at #4 and 2006's PHOBIA (Platinum) at #2. EMBER spun off two #1 hits at Active Rock Radio with "Red Cold River" and "Torn in Two." AURORA and EMBER charted Top 10 across numerous countries worldwide and topping #1 charts across multiple genres, including Top Alternative Albums, Top Rock Albums, Top Hard Rock Albums and Top Digital Albums.
ABOUT BUSH
With a discography that includes such seminal rock albums as 1994's 6x platinum-selling SIXTEEN STONE, '96's triple-platinum-selling RAZORBLADE SUITCASE and '99's platinum-selling THE SCIENCE OF THINGS, BUSH has sold over 20 million records in the U.S. and Canada alone. They've also compiled an amazing string of 23 consecutive Top 40 hit singles on the Modern Rock and Mainstream Rock charts. Eleven of those hit the Top 5, six of which shot to No. 1: "Comedown," "Glycerine," "Machinehead," "Swallowed," "The Chemicals Between Us" and "The Sound of Winter." The latter made rock radio history as the first self-released song ever to hit No. 1 at Alternative Radio, where it spent 6 weeks perched atop the chart's top spot. The song appeared on 2011's "comeback album," THE SEA OF MEMORIES, which was BUSH's first studio album in ten years. That year Billboard ran a story about the band under the headline, "Like They Never Left" – a fitting title as the multi-platinum quartet (vocalist/songwriter/guitarist Gavin Rossdale, guitarist Chris Traynor, bassist Corey Britz and drummer Nik Hughes) promptly picked up where they left off. They've continued to dominate rock radio and play sold-out shows to audiences around the world ever since. Their latest album The Kingdom followed 2017's Black And White Rainbows, which People magazine hailed as "a triumphant return."
ABOUT LIVE NATION ENTERTAINMENT
Live Nation Entertainment (NYSE: LYV) is the world's leading live entertainment company comprised of global market leaders: Ticketmaster, Live Nation Concerts, and Live Nation Sponsorship. For additional information, visit www.livenationentertainment.com.
ABOUT ASM GLOBAL:
ASM Global is the world's leading producer of entertainment experiences. It is the
global leader in venue and event strategy and management—delivering locally tailored
solutions and cutting-edge technologies to achieve maximum results for venue owners.
The company's elite venue network spans five continents, with a portfolio of more than
350 of the world's most prestigious arenas, stadiums, convention, and exhibition
centers, and performing arts venues Follow us on Facebook, Instagram, LinkedIn and Twitter. 
# # #