Rock 107 has tickets for you to see Genesis
at the Wells Fargo Center Philadelphia on December 2nd!
Tickets go on sale Friday May 7th at noon.
But All Week we have a chance for you to WIN THEM Before You Can Buy them! (Starting Monday) Listen all week for us to play 2 in a row from Genesis! At the start of the 2nd song, be caller 17 at 1-888-Rock 107!
Genesis highly anticipated return to North America for the first time in 14 years. The Last Domino? Tour 2021 with Tony Banks, Phil Collins and Mike Rutherford!
Listen all week for to win Genesis tickets, on Rock 107  tickets at WellsFargoCenterPhilly.com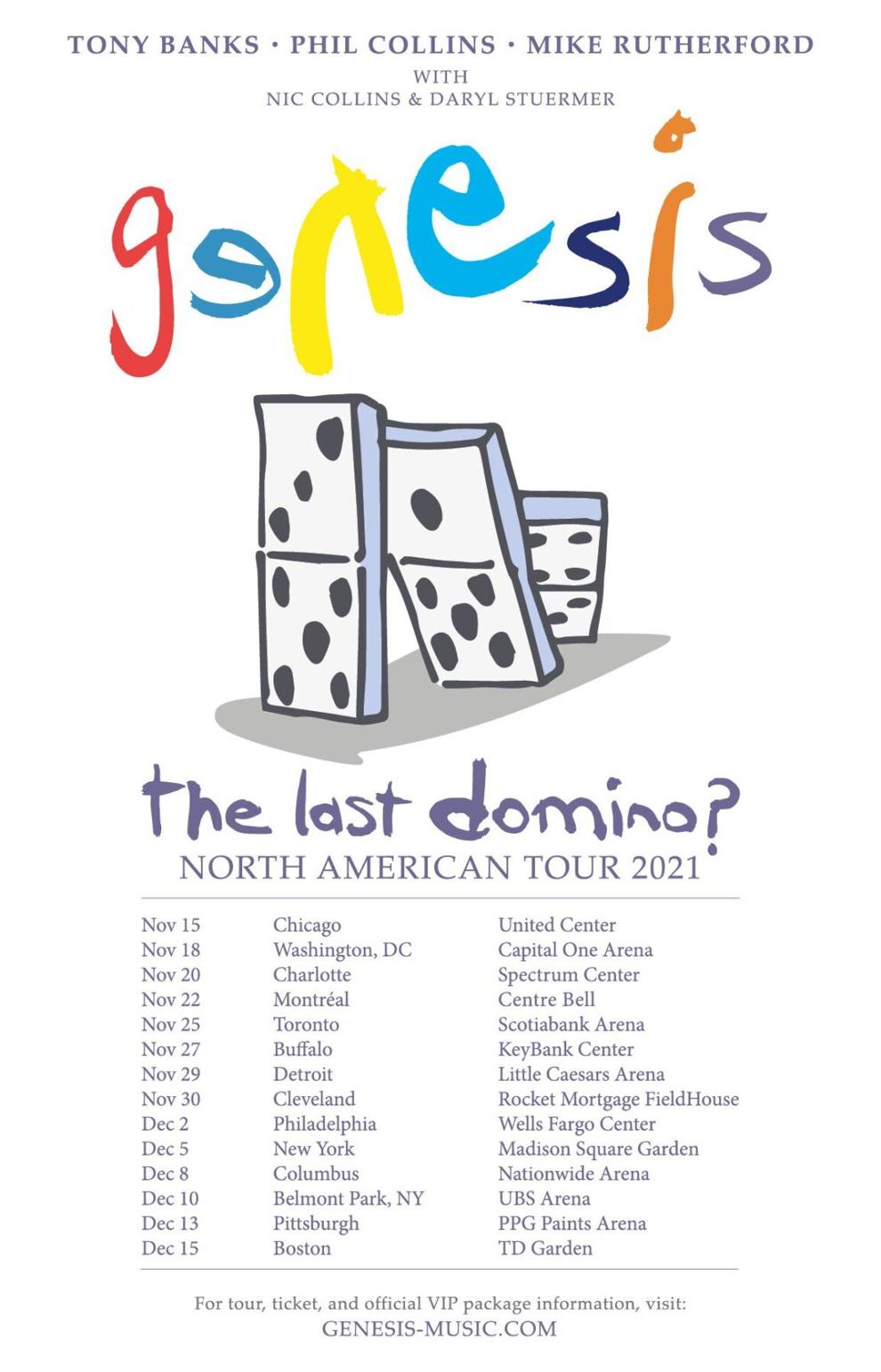 GENESIS ANNOUNCES THE LAST DOMINO? 2021 NORTH AMERICAN TOUR,
INCLUDES STOP AT WELLS FARGO CENTER ON DECEMBER 2, 2021
Tony Banks – Phil Collins – Mike Rutherford return to Philadelphia for the first time in 14 years
Tickets go on-sale Friday, May 7 at 12:00 pm through WellsFargoCenterPhilly.com
PHILADELPHIA – April 29, 2021 – Today, Genesis announced their highly anticipated return to North America for the first time in 14 years with The Last Domino? tour dates, including a stop at Wells Fargo Center on December 2, that will have Tony Banks, Phil Collins, and Mike Rutherford, playing major cities across the U.S. and Canada this November and December 2021. The group will be joined by Nic Collins on drums, and the band's long-time lead guitar and bass player Daryl Stuermer.
The Last Domino? North American Tour 2021 marks the first time Genesis has performed stateside since 2007's Turn It On Again: The Tour which went on to be one of the biggest grossing tours of that year playing sold out arenas and stadiums around the world. One of the most successful and legendary rock bands of all-time, Genesis has sold more than 100 million albums with numerous top 20 hits including "Invisible Touch," "In Too Deep," and "Turn It On Again," while also being inducted into the Rock & Roll Hall of Fame in 2010.
 Tickets for all shows will be available first through a presale powered by Ticketmaster Verified Fan on May 5, followed by the general public on-sale on May 7. The Verified Fan program aims to create a safe and reliable ticket-buying experience. It helps ensure that tickets get into the hands of real fans first. Fans must register for access between now and Sunday, May 2 at 11:59 p.m. ET. If verified and selected, fans can secure their tickets beginning Wednesday, May 5, at 10 a.m. local time.
To register, please visit www.genesis-music.com.
Tickets will go on-sale to the general public on May 7 at 12 p.m. through WellsFargoCenterPhilly.com. Visit www.genesis-music.com for additional tour, ticket, and official VIP package information.
For the biggest Genesis fans who want to get closer to the action than ever before, official VIP packages will be available for all shows! Fans can choose from a variety of VIP package options to ensure they have an unforgettable experience. Official VIP packages will be available beginning Wednesday, May 5 at 10 a.m. local time
The tour and all venues will be following all mandated precautions in accordance with state and local regulations so as to provide the most secure, Covid-19-free environment possible.
Genesis The Last Domino? North American Tour 2021 is promoted by EMC Presents by arrangement with Solo and Tony Smith Personal Management. The Philadelphia engagement is being promoted locally in collaboration with Larry Magid Entertainment Group.
About EMC Presents
EMC Presents is a partnership between CTS Eventim, one of the leading international providers of ticketing services and live entertainment, and award-winning tour promoter and producer Michael Cohl. The mission behind this collaboration is to create extraordinary shows and experiences for fans worldwide.
# # #
Official Contest Rules
The Rock 107/WEZX Genesis contest will begin on Monday May 3, 2021 and will end on May 7, 2021 after the last pair of tickets are given away on May 7, 2021. A total of 5 pair will given away! (1) Pair per day!
a) To participate in the Contest, weekdays during the Contest period, listeners must tune into WEZX-FM [ROCK 107]. WEZX-FM [ROCK 107] once a day will play (2) three songs in a row from Genesis. This must include Genesis,

NOT

Phil Collins or Peter Gabriel SOLO.
The seventeenth (17th) caller to get through to the station to 1-888-ROCK-107 (888-762-5107) after the start of the second song wins a pair of tickets to see Genesis Thursday, December 2, 2021 at Wells Fargo Center Philadelphia. A total of (5) five listeners will win during the duration of the Contest. WEZX is not responsible for telephone service outages, delays, busy signals, equipment malfunctions, or any other technological difficulties that may prevent an individual from completing his or her call. Online listeners to streamed broadcasts may experience a lag in transmissions due to buffering limitations. Contest Participants should not rely on streamed broadcasts. Entrants may be disqualified at the sole discretion of the station.
b) There is no limit to the number of times a listener may attempt to call-in to qualify.
Eligibility Restrictions:
a) The contest is open to all WEZX-FM listeners who are legal United States citizens 18 years of age or older and who reside in the 570 Area Code. Employees of WEZX-FM/Shamrock Communications, its licensee, their subsidiaries, affiliated entities, affiliated advertising agencies, participating sponsors/promotional partners, other radio stations in the Northeast Pennsylvania total survey area as defined by Nielson radio and the members of their immediate families are ineligible to participate or win. Immediate family shall include spouse, parents, children, siblings, grandparents, grandchildren, and any other person residing within the same household.
b) Listeners are eligible to win a WEZX-FM contest only once every thirty days. Only one winner per household is permitted in any contest.
c) Participants in the contest must hold a valid government issued ID and must meet all eligibility requirements set forth herein.
Prizes:
a) A pair of tickets to see Genesis Thursday, December 2, 2021 at Wells Fargo Center Philadelphia
b) All prizes or prize certificates may be picked up at the office of WEZX-FM/Rock 107 149 Penn Ave Scranton PA 18503. Any prize or prize certificate not claimed within thirty days (30) days of winning will be automatically forfeited by the winner, unless a prize has an expiration date, in which case a prize may be forfeited earlier than thirty days from winning. In the event that a prize or prize certificate is mailed to the winner, it will be with the prior written consent of the winner and therefore, winner assumes the risk of its arrival. WEZX-FM is not responsible for the safe arrival of a prize or prize certificate.
c) Contest prizes are not transferable. Prizes may not be substituted for or redeemed for cash.
e) Prizes are limited solely to those items explicitly set forth herein and shall not include any and all other expenses, incidentals or taxes that may arise out of the winner's receipt of this prize.
f) Prizes will be awarded as is, with no written or express warranty.
Selection of Winners:
a) Decisions of station management with respect to the contest are final.
c) Odds of winning depend on the number of people who attempt to call in and qualify when the cue to call (second Genesis song) on-air.
d) Winner must execute and return any required Affidavit of Eligibility and/or Release of Liability Prize Acceptance Form prior to taking possession of the prize vehicle or prize will be forfeited.
Conditions:
a) Photo identification of the winner is required in order to collect the prize.
b) Winner is required to sign a release in order receive their prize. Failure or refusal to execute the release will result in winner forfeiting the prize. Pursuant to the liability release, the winners will agree to hold WEZX-FM, its licensee, Times-Shamrock Communications, their subsidiaries, affiliated companies and the officers, shareholders, directors, employees, agents and representatives of each of them harmless against any and all claims or liability arising directly or indirectly from the prize or participation in the contest.
c) By participating in the contest, the winner or winners (and their guest or traveling companion, if applicable) agree to have their name, voice, or likeness used in any advertising or broadcasting material relating to this contest without additional financial or other compensation, and to sign a publicity release prior to acceptance of the prize.
d) The Station reserves the right in its sole discretion to modify the contest rules and dates at any time for any reason. Material modifications shall be announced on-air, when practical. By participating in this contest, you agree to be bound by these contest rules, any modifications thereof, and by all other rules imposed by Station management. If due to circumstances beyond the control of Station, any event associated with this contest or the prize is delayed, rescheduled, postponed, or cancelled, Station reserves the right, but not the obligation, to cancel or modify the contest and shall not be required to award a substitute prize.
e) No purchase is necessary. The contest is void where prohibited.
f) Failure to comply with the contest rules may result in a contestant's disqualification, at the sole discretion of WEZX-FM.
g) WEZX-FM -FM is not responsible for typographical or other errors in the printing, the offering, or the administration of the contest or in the announcement of a prize.
h) Copies of the written contest rules and a list of all winners are available during regular business hours at the main studio of WEZX-FM/Rock 107 149 Penn Ave Scranton Pa 18503 or by sending a self-addressed stamped envelope to WEZX-FM.
i) Station reserves the right to substitute a prize of greater or equal value at its sole discretion.
j) Once any person wins $600 or more in cash or prizes from any Times-Shamrock Communications radio station, they or any member of their immediate family or member of their household, may not participate in any contest sponsored by the radio station for a period of one year.
k) The total approximate value of the grand prize is $300. WEZX/Rock 107/Times-Shamrock Communications assumes no liability or responsibility in connection with the use of any prize awarded hereunder nor in connection with any warranty or representation therewith.